You may have already read my review of the UF Pro Striker HT Pants. Those things are awesome – and my go-to pair of pants when I am shooting in a comp or have clients out on the range – however – they are way too OTT for general use – both in the look and the weight for a pair of trousers. So, I was keen to find a decent pair of shorts for summer wear, and figured looking to UF Pro might be a good start. What do you know? They do shorts as well!
The P-40 Tactical Short is based on the P-40 Trousers. Basically, cut them off just below the knees. This does mean you lose the ability to insert knee pads, but if things are really getting that bad (and they are on my old man knees) I do have separate knee pads I can wear.
Basically, I love these things.
Stretchy Stretchy
UF Pro incorporates stretch panels in key points on their kit. On their pants – this is normally up around the butt, allowing the seat of the pants to stretch out when you lift your legs, sit down and so on. It's not like you have a giant spandex bum going on – but it's enough that you feel the pants give and contract when you move in them.
The rest of the material is a Polyester/Ripstop blend – that is touch, not too heavy and, dries fairly quickly. I have taken a couple of dips in the shorts now – and they don't soak up water and get super heavy.
Wear and Tear
They have had some.
Specifically, they have been subjected to Land Rover Arse. Which is a know 'feature' of Land Rover Defenders – the door latch on the driver's side has a good habit of grabbing the rear of your trousers as you hop into the truck. The shorts and my back were caught a couple of times before I learnt the lesson. I took them down to the local tailor for a quick and easy patch up.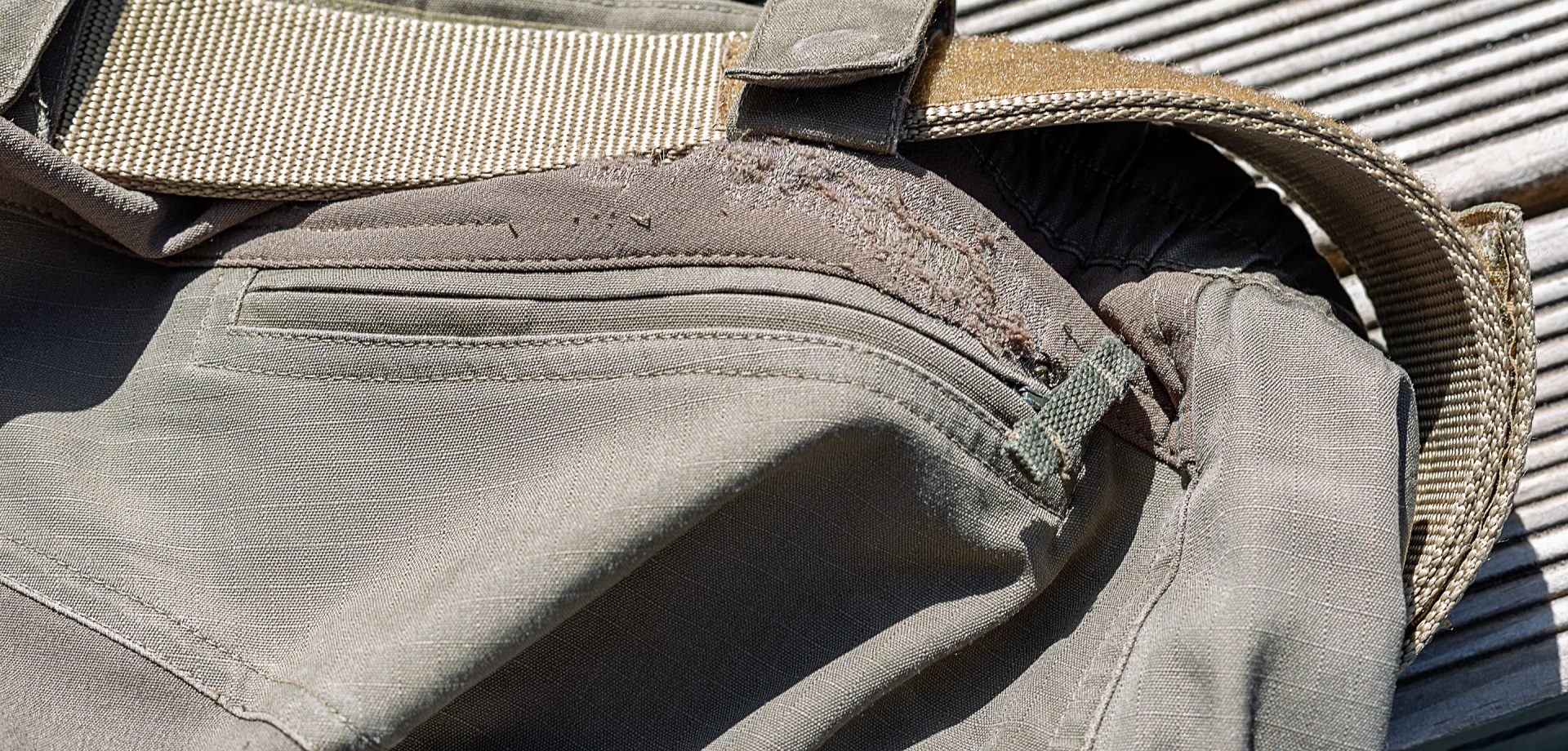 I also broke off one of the zip pulls – though there are a couple of redundant (for me) zips on the trousers – so I just took the pull off one of them.
It's all about the pockets
I have always hated the look of cargo pants. Big billowing pockets that always look way overloaded and over the top. Thankfully, the UF Pro pants I own, don't seem to suffer from the baggy pocket syndrome.
The pockets have been designed to fall and sit (at least on me) just perfectly. Not to low that things bang against my knees (like some of my 5.11 trousers) and not so hight that the pinch in my leg fold when I sit down. They sit far enough to the side that they don't sit 'on' the top of my thighs and not too far around to end up under my legs when seated.
I can carry a fair bit of gear in the pockets and still not have them seem to bulge out much – this is in large part to the inner pocket sleeves that hold the contents again your legs and in line with the pant line. While you can also stuff the outer part if need be (and they will start to billow out) – most the time, they don't really stick out that far.
I don't use the rear pockets – as I don't like sitting down on things in them.
On the outside of the cargo pockets are two additional pockets – that come with a velcro tab that you can fold over for retention. I personally would prefer a more traditional retention strap, maybe with button closure – as I really hadn't figured out how to get the tabs to work for me. The pockets do need retention though – as when you lift your leg up, the contents, if they have a bit of weight in them (like a phone) – will slip out. I nearly lost my Kestrel that way.
It occurs to me that I completely forgot to mention the main pockets. They, like the rest, work well. I have worn the inside material out on both of them (I am not kidding when I say I am wearing them every single day) – but again, that is a simple repair, and kinda expected when I am constantly carrying around sharp edges like keys etc in them.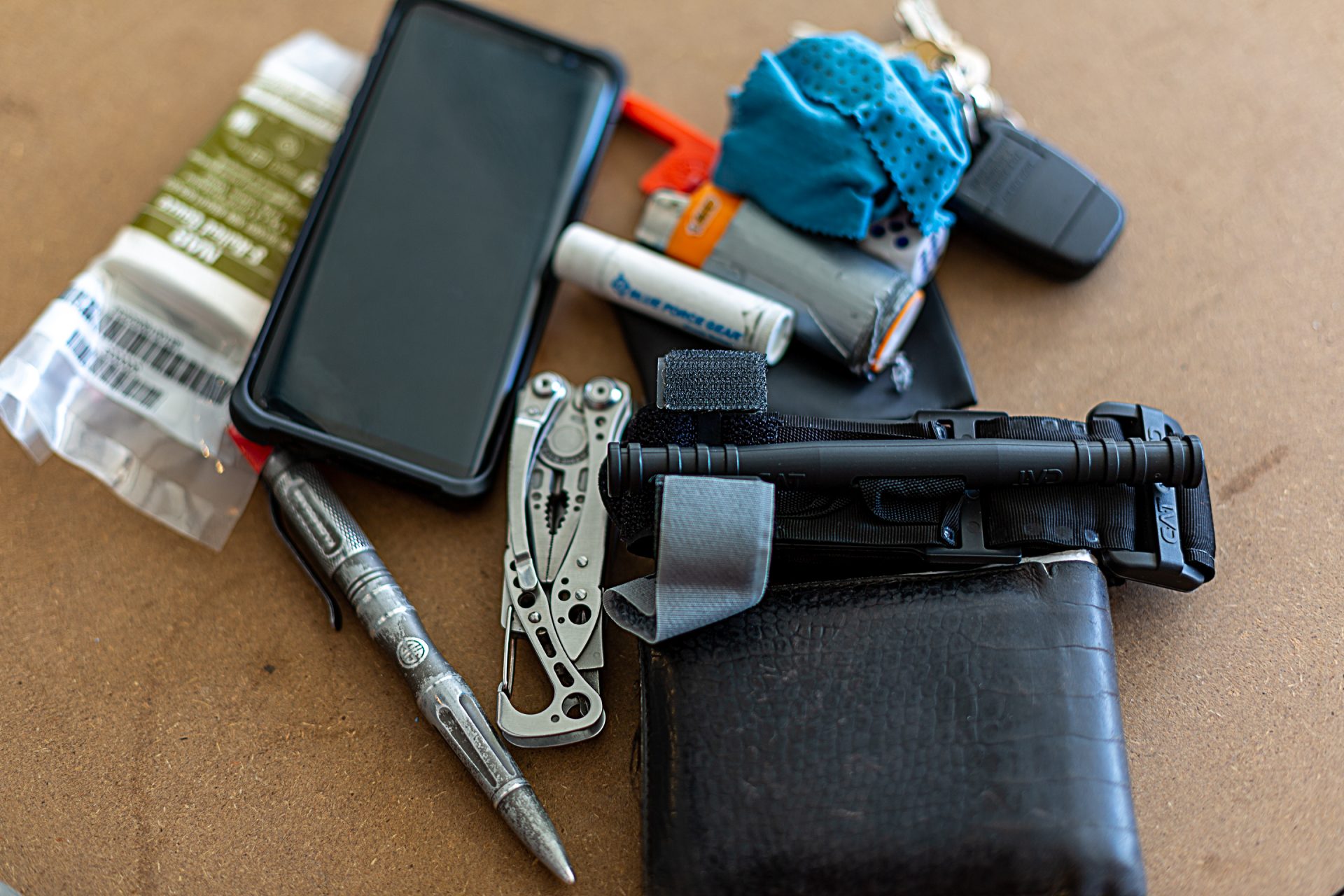 Essentially, these shorts let me carry quite a significant amount of kit around on my body at all times and let me do it comfortably and easily. Often, in fact, I get surprised by the weight of them when I take them off – because I certainly don't feel it while I am wearing them.
Gush gush gush
So, the review is gushy – but that's because I really do love these things. I intend to get another pair shortly in another colour – because I don't really see much better out there.
Sure, I, personally don't use all the features in them. But I don't really feel that's an issue. Would I change anything? Well, I might remove the zips and rear pockets – but that's just me.
I have no hesitation in recommending the UF Pro P40 tactical shorts. They are phenomenal.