Once upon a time… I got into precision rifle shooting. Not that long ago really. As many new shooters do, I scoured the internet for every bit of advice and suggestion as to what scope I should get to put onto my rifle. I was reading up a lot about the PRS series at the time, and one particular scope kept coming up time and time again – the Razor HD II.
At the time, I had the means to invest in a higher end optic1 – so decided to bite the bullet, so to speak and get the Razor. It's been great to me. It's a tank. Weights the same amount as one.
So, when I heard that Vortex had announced another model in their premium Razor HD line – one that was lighter and potentially even better optically, I was intrigued.
Enter the AMG
I caught up with Tim from Extravision (the Australasian distributors of Vortex) at the Sika Show, then again at the Shot Expo, and a plan was hatched to get my mitts on one of the new AMG Scopes. Quickly looking at the specs, it became apparent that the AMG wasn't so much a replacement for the Vortex HD range, but rather a complementary model, for a slightly different user.
6-24x magnification range.
30MM main tube
First Focal Plane
New EBR-7B reticle
All2 made in the US of A
Advanced Manufacturing Group
No, AMG doesn't mean there is a tie-in with a certain German Car company – in fact, its a little odd considering how well established the AMG is, to call a new product as such, but I digress… The AMG is the first Vortex scope that that is assembled in the US, from US-made components. With the exception of the German manufactured reticle, this is about as American as it gets.
Out of the box and mounted
I realise that the packaging just gets seen once, but then gets put away in a cupboard. But man, the packaging on this scope looks good.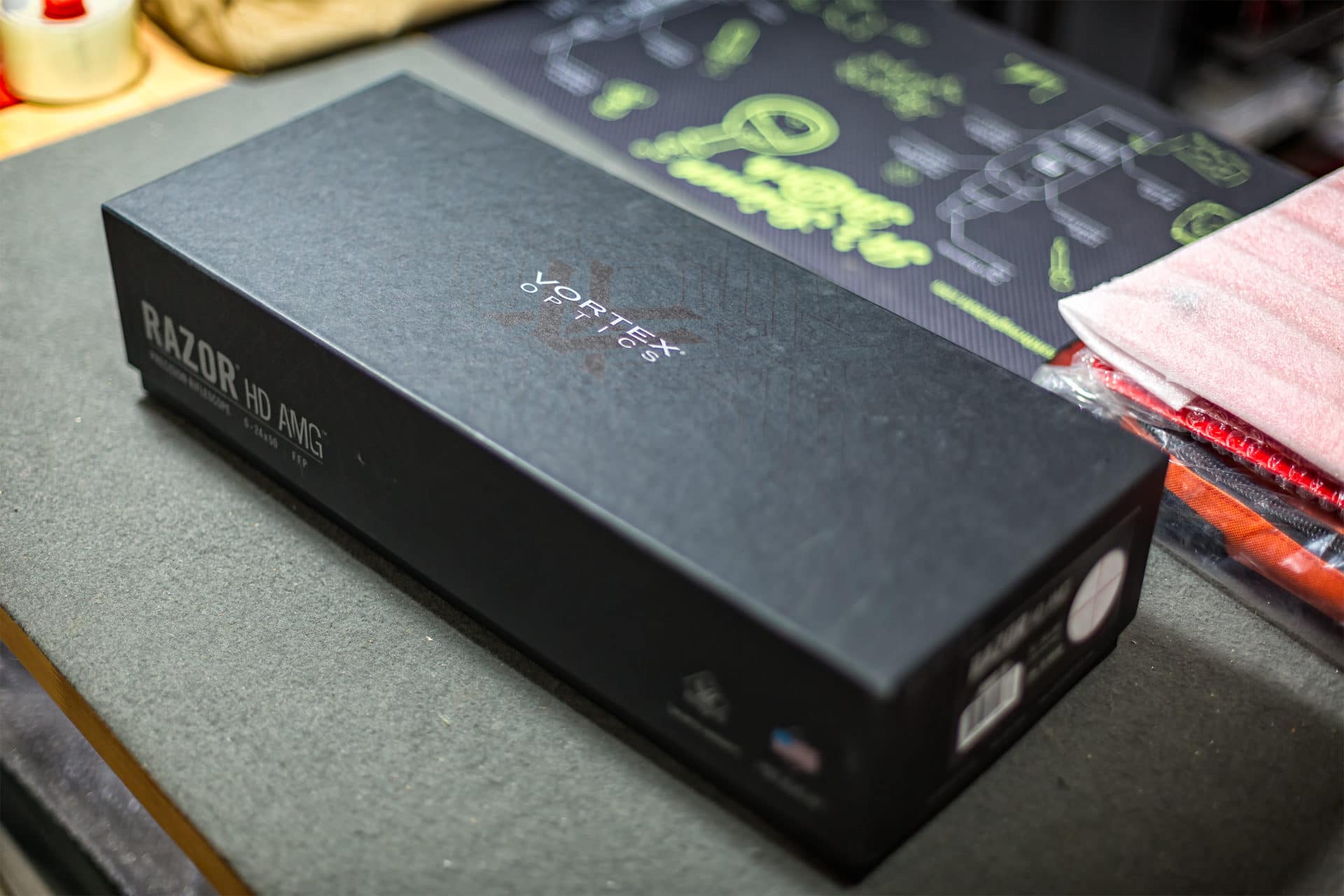 The scope comes with a sunshade, front and rear flip up covers, scope adjustment tool, cloth and a pile of stickers!
Those flip up caps though…
This is the one thing I am not sold on with this scope. The covers are mounted with a rubber 'grippy' sleeve – that, to be blunt, doesn't work very well. Often, while flipping up the caps, the whole cover comes off – and I found myself generally just removing the whole unit when shooting. I would be very tempted to just replace them with Tenebraex covers and be done with it.
Mounting
Mounted on the Tikka TAC A1, using medium Tier One UniMount Rings, with the sunshade on, it just cleared the front Picatinny. There is no way the supplied flip caps will work on the front. However, I would imagine with most rifles, without the rail, you would get them on. High rings obviously would work – but will result in a very high mount.
Because the tube is a 30mm, instead of the 34mm I am used to, I used the Tier One Sleeves to bush down to the 30mm. I actually like these for two reasons – one – you can use the same high-end 34mm rings, and the sleeves help with reducing any potential ring rash if that is a concern for you.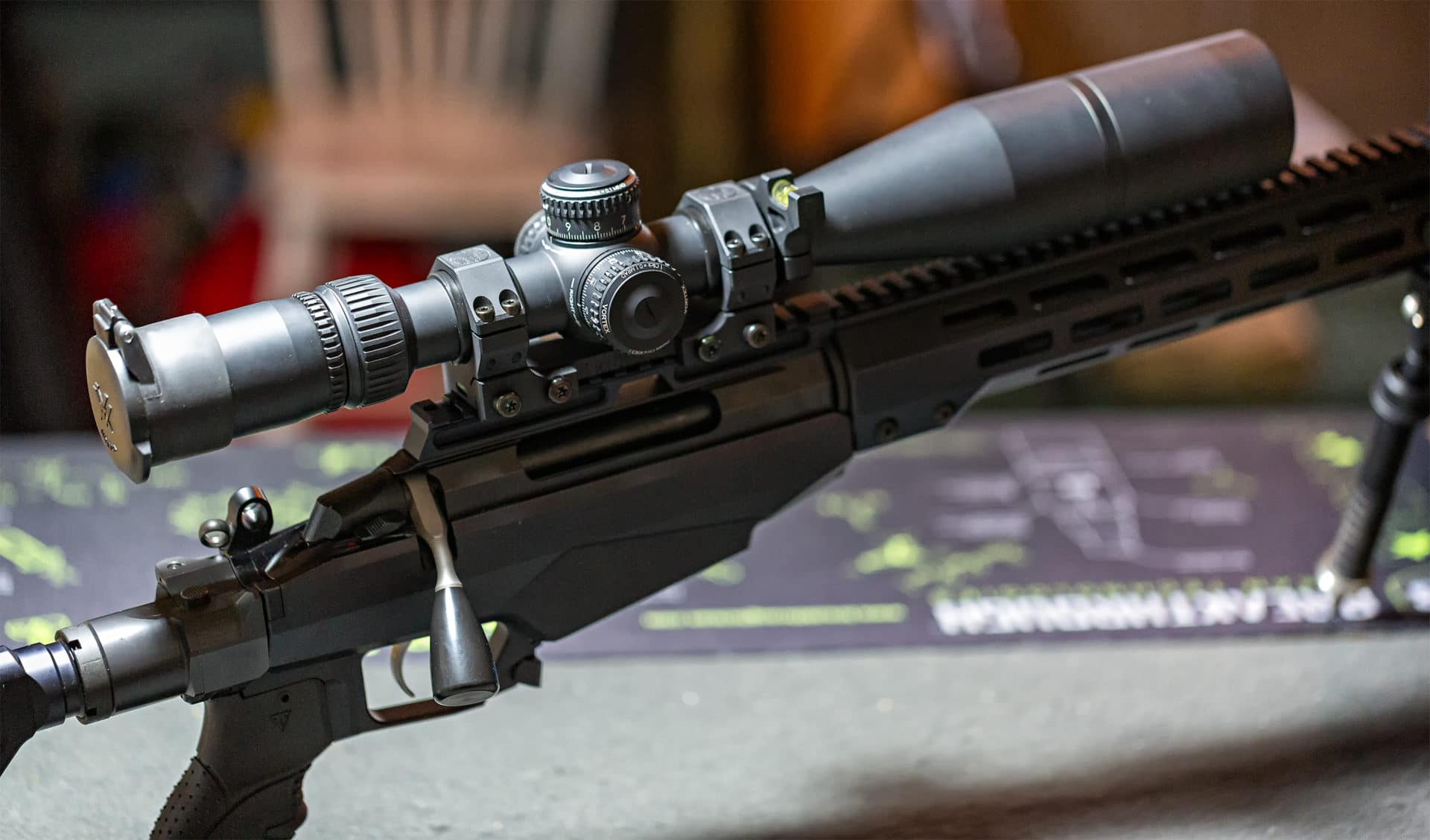 The AMG is specified with 3.6 inches of eye relief, and while, not a major – can be a little finicky when at max zoom – however – correctly setting up your scope (and rifle) in the first place3 makes this much of a non-issue.
I plunked a Burris Bubble Level on the rail, plumbed it all up, and was done.
Zero'ing the AMG (like the Vortex Razor) is different to any other scope I have used. However, once you understand the process, it also means you don't have to worry about being a half click high, or half click low. The method is clickless and very quick to use. You do require a tool to loosen the hex screws though.
I like the look of the scope. It really is a refined Razor. A little less chunky, it follows the form of the rifle a bit better and doesn't just scream 'Im a BIG RIFLE SCOPE' like the Razor can.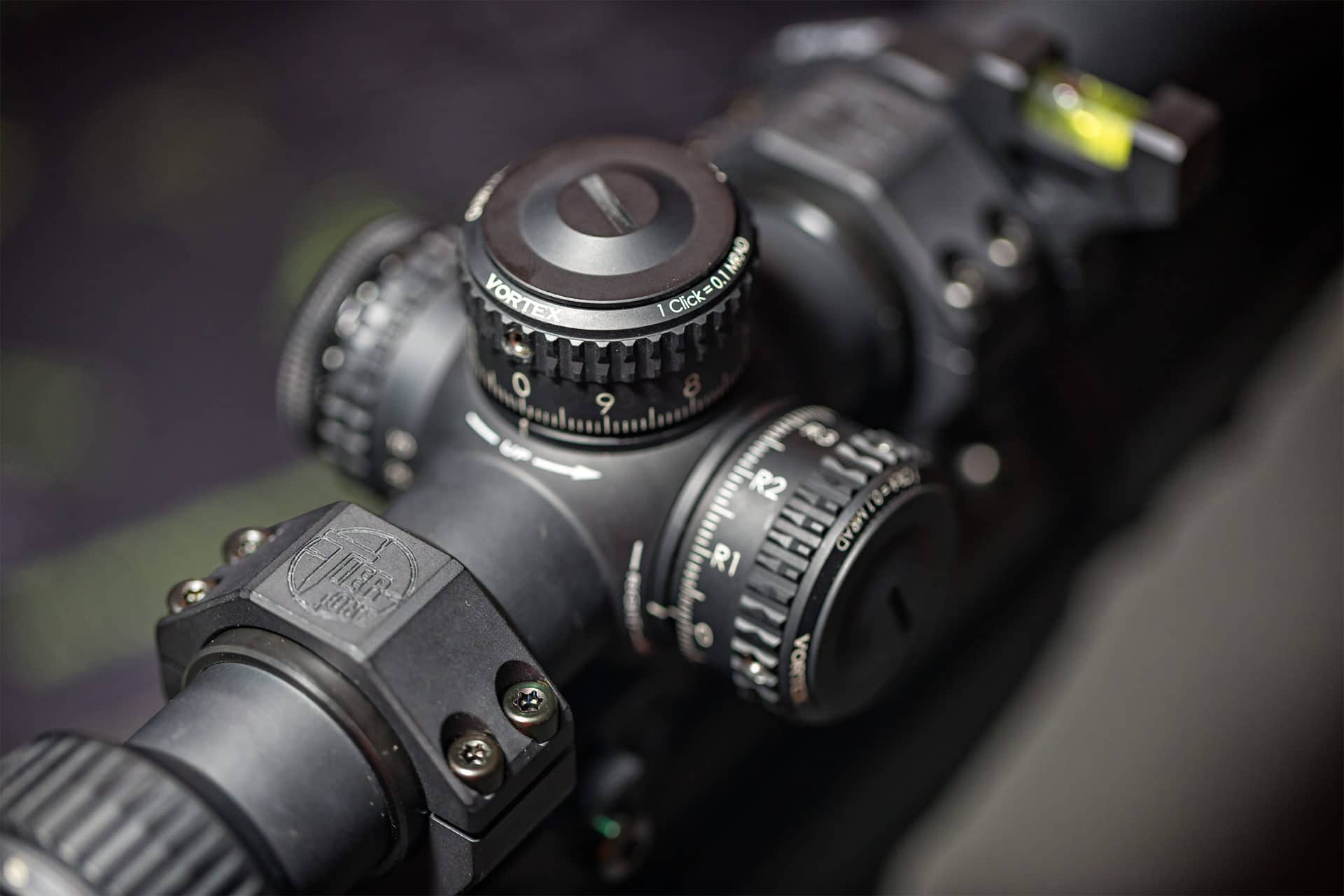 Build and Features
Elevation Available
The website indicates a 27.5 MILS of elevation. Windage is 10 MIL.
Plenty. No. Not as much as the Razor, but plenty. Put a 20 MOA rail (or 6 MILS as Tier One says) and no issues getting out over 1k.
The Turrets
The Turrets are sweet.
Nice and tactile, a little lower in profile than the Vortex, but still easy to dial. One thing I did notice, from new, the locking mechanism – which means pulling the knob up, was very, very stiff. So much so, I could see some people just not understanding what was meant to happen, could miss the fact they are locking. This could explain the rumours I have heard of some people screwing the turrets around so hard that they broke. But I would have to point out – this is a caveman amount of over twisting something. Maybe because I already was familiar with my Vortex, but after a couple of uses, it freed up enough to not be an issue.
There are 100 clicks in a single turn of the elevation turret. That should be good for 1k on most rifles, and, when you come back down, the zero stop actually allows you to go down to -.5 mil – which could be handy if you wanted to use multiple ammo types or a suppressor on/off shift and just enter the details into your ballistic calculators zero offset facility.
Magnification Ring
Toight like a tiger. 6-24 is a bit different to the 4.5-27 I have been used to – but really, I don't need to use the firearm at 4.5 times very (if ever) often.
The ocular focus is also interesting – with a second ring that locks the adjustment into place. Set it once, forget it, it's never going to move on you again.
Overall Build Quality
Phenomenal. Just phenomenal.
I mean, it's like, matt black. How modern. Actually, the matt black finish is a pain – in that it's going to show up every fingerprint. But that's just aesthetic quibbles.
Overall though, the AMG just exudes class. It's solid but sleek – in some ways 'no frills' – but seriously looks like its there with a purpose.
Looking through the Scope
The Glass
So, this is one of the main things that piqued my interest when I first hear about the AMG. It was said to have better glass than the Razor.
Now, again, I love the Razor. But I have always seen a little Chromatic Abrasion in it. I see it in a lot of scopes. I look for it in the photos I take, down to the pixel – so it's something I tend to notice.
The AMG certainly has less. It's still there, just hovering over a treeline backlight by the sun, but its less than the Razor. Would you notice it? Maybe. Possibly not. But as far as I am concerned, yes, the glass is better on the AMG compared to the Razor.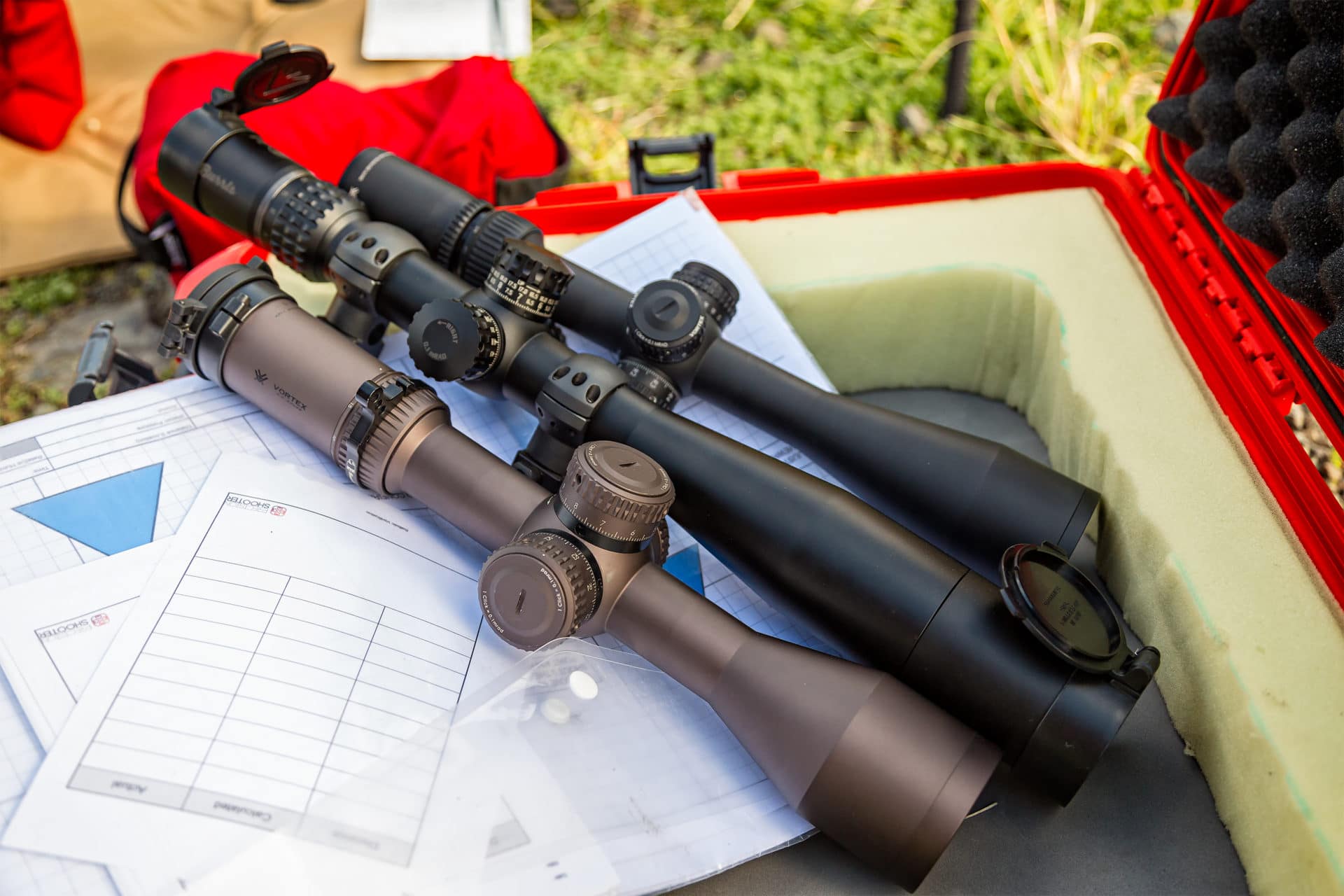 The Reticle
Oh, I love the reticle.
I have grown accustomed to the Christmas trees now, the EBR-2C being what I have been looking at for quite some time. However, the EBR-7B really does up the ante.

Instead of the even .5 mil hash marks, the AMG features .2 hash marks on the top of the horizontal line and .5 mil hash marks on the bottom.
In addition, the open space is .1 mil each side from the centre and in the very middle is a tiny dot, .13 is size.
As I am finally breaking the shot, in my head, I want to make sure we are continuing to hold the fundamentals, continuing to aim – in my case, I do fixate on that tiny spot. That tiny spot is on a tiny spot on my target. I keep it on there, I keep focus, I break the shot.
That little dot really is awesome.
Parallax
Goes down to 30 yards. Rimfire Optic maybe? 🙂
Objective Size – light gathering
To be fair, I haven't used this scope much in the twilight. Don't normally need to – but – I could see this scope being used as a crossover hunting/long-range optic – so a worthy consideration. Certainly, the theory would say that a 30mm tube is going to let less light through than a 34mm tube. But – certainly, in my use, I haven't noticed any significant difference compared to the Razor.
In Use
The optic has sat on the Tikka for several shoots, both by me, clients and friends. It just does the job and does it well. A few have commented that the reticle is unusable at 6x magnification, which, I would agree with – but then, would also suggest it won't ever get used in that manner anyhow.
Tracking and Zero Hold
Flawless. I have had this on and off scopes, dialled up to 1000 and back down again to confirm zero, multiple times and no indication of issue whatsoever.
In comparison too…
The Burris XTR – better glass, prefer the reticle nearly 1500 more though… so you would hope so. Much the same as Vortex's own Diamondback.
How about the Razor? Here is what it comes down to. Both phenomenal glass. Both are equally suitable for a long-range rig. Ultimately depends on your preference (reticle) and maybe a bit of use.
For me, I am happy to give up a little max zoom, and theoretical light gathering for less weight, better glass and that EBR-7C reticle. You may have a different preference. Both are correct.
Who would it suit?
This will likely end up on my CTR. It could be a near-perfect crossover long range hunting/competition scope.
---
though now, ironically, I realise there are much higher end options again! ↩

bar the reticle ↩

as you should ↩