To be fair, I haven't really had to grind behind a spotting scope yet, but I can imagine, like a day behind any monocular scope, using essentially just the one eye to do all your viewing and observing from would have to get to you eventually.
Being that sometimes we are just really trying to call hit or miss, the notion of a pair of binos becomes appealing. Sure, the Swarovski BTX eyepiece would also be a nice option – but the eye-watering price tag that comes with it is also a bit of a challenge.
Initial Thoughts
It has to be said, the packaging on a lot of rifle gear is getting fancier and fancier. For me, it gets unpacked once and the packaging gets biffed under the stairs into 'long term storage' – but I guess, for some, the box itself makes a difference.
However, included with the binos are a hard case, straps for a traditional round neck setup, a cool little cleaning cloth and a tripod mount – which was one of the main reasons I was looking at this bino.
It's a nice package that covers off most of your needs – there is an alternative tripod quick mount – and I would suggest you get it – but I will cover that off in a bit.
For the time I had the binos (they were on loan to me from the importer) I kept them in the 'hard case' provided – it was a nice system that would provide all the protection you would need if storing these binos in the truck, in a backpack, where-ever.
Tripod Mounting
The intent was always to use these bino's on a tripod – they are big, heavy, and rather fatiguing to handhold for any length of time – rather, utilising the tripod quick mount – which allowed you to quickly take the binos off and on the tripod – they were sturdy and a joy to use.
I run the same tripod for the spotting scope, binos and to mount the rifle on for shooting off of – the one tripod to rule them all works well – though, in the future I would likely look to get set up with a larger weight rating – which would likely mean thicker carbon fibre legs. Regardless, once mounted upon the tripod – apart from me hitting the bino's with my glasses or eyebrows while looking through them, the bino's were solid and didn't move at all.
This is pretty much the setup I envision these binoculars were designed for – and if you look to overseas, this is where they are getting picked up and utilised.
The Glass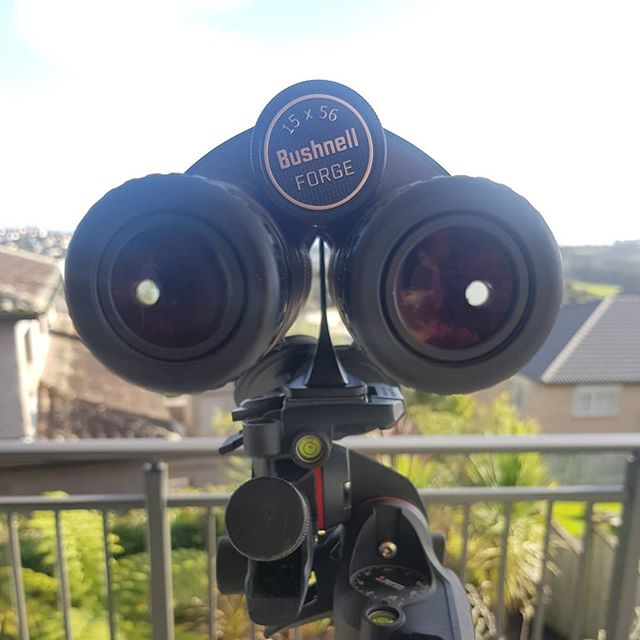 Is phenomenal. I have looked through and used a bit of the ED Prime Glass recently – and it's always impressive. Bright and the clear – anyone who looks through the glass is instantly impressed, and for good reason. I think it's a mixture of the glass used and the coatings on it. The optics are clear – the EXO coatings have shown a great capacity to bead water off and keep things fog-free.
The 15×56 means an exit pupil of around 3.7333 – so not going to be good in the twilight (I imagine) – however, again, I don't think this is where the intent of this bino is – maybe if you are also planning on taking it out for some glassing on the hills. However, most of the day, no issue what-so-ever.
In Use
I took the bino's up to Balnagown for a couple of sessions of range work, glassing some animals, and generally using them about the place. The challenge was, they seemed to fit into one use very well but almost needed supplementation depending on what you were up too.
For example – 15x is a little low magnification to be able to see holes in the paper at 100 meters – especially if you are trying to zero a rifle and making fine adjustments on it. Turn around onto the steel though, and they worked fantastically for spotting hits on the steel out at 550 – 15x is enough to also see the misses and call corrections – though again – for refining things – like call corrections in on a watermark on the plate at 550 – you wanted a little more zoom.
For animals, in the bush, around your neck – it's a heavy set of binos – but sit down on the side of a hill with the tripod, and they are a joy to scan the hillside with. If you needed to really ID something though, for example counting the rings, curl or otherwise having to age an animal – I could see you wanting more magnification again.
For me, at the moment, I am spending a lot of time on a spotting scope – and I really am keen on one with a reticle on it, so I would personally gravitate towards that first, with these binos being the awesome supplementary set for use at competitions and having others spotting hits or misses for each other.
So, are they are a good unit? Yes. Undoubtedly. And if you have a need for a set of 'spotting binos' they would be the obvious and awesome choice. While not the first on the list of purchases for me, they are right up there.