Oh, it's always nice to have options!
I recently acquired a few more so thought a quick overview and some initial thoughts were in order.
This is not so much intended as a 'what to carry or 'how to use it' – it is more specifically a look at 'how to carry'. Nor am I going through 'why' you might want to carry this stuff. I choose to, if you are reading this, you likely want to as well. So – let's have a look at some different ways to do that.
All these kits are compared with the intent to carry on the belt – sometimes a backpack – but generally – I am looking for methodology to always have the stuff on me – range, backcountry, whatever. You can read up a little about the 'duty belt' idea over here.
The point is essentially a kit that you always have on you, but hopefully never need to use. 😉
Condour Tactical Rip Away EMT Pouch
I have already done a review on this a couple of years ago – over on The Bloke – I still have it – but it is more of a full First Aid Kit than a 'Trauma' Kit. It's large – so spends most of the time sitting in the truck – it's still on its Velcro backing (attached to the centre armrest) – so it is quick to grab should I need it. Very happy with it still – just a bit big to permanently have on the waist.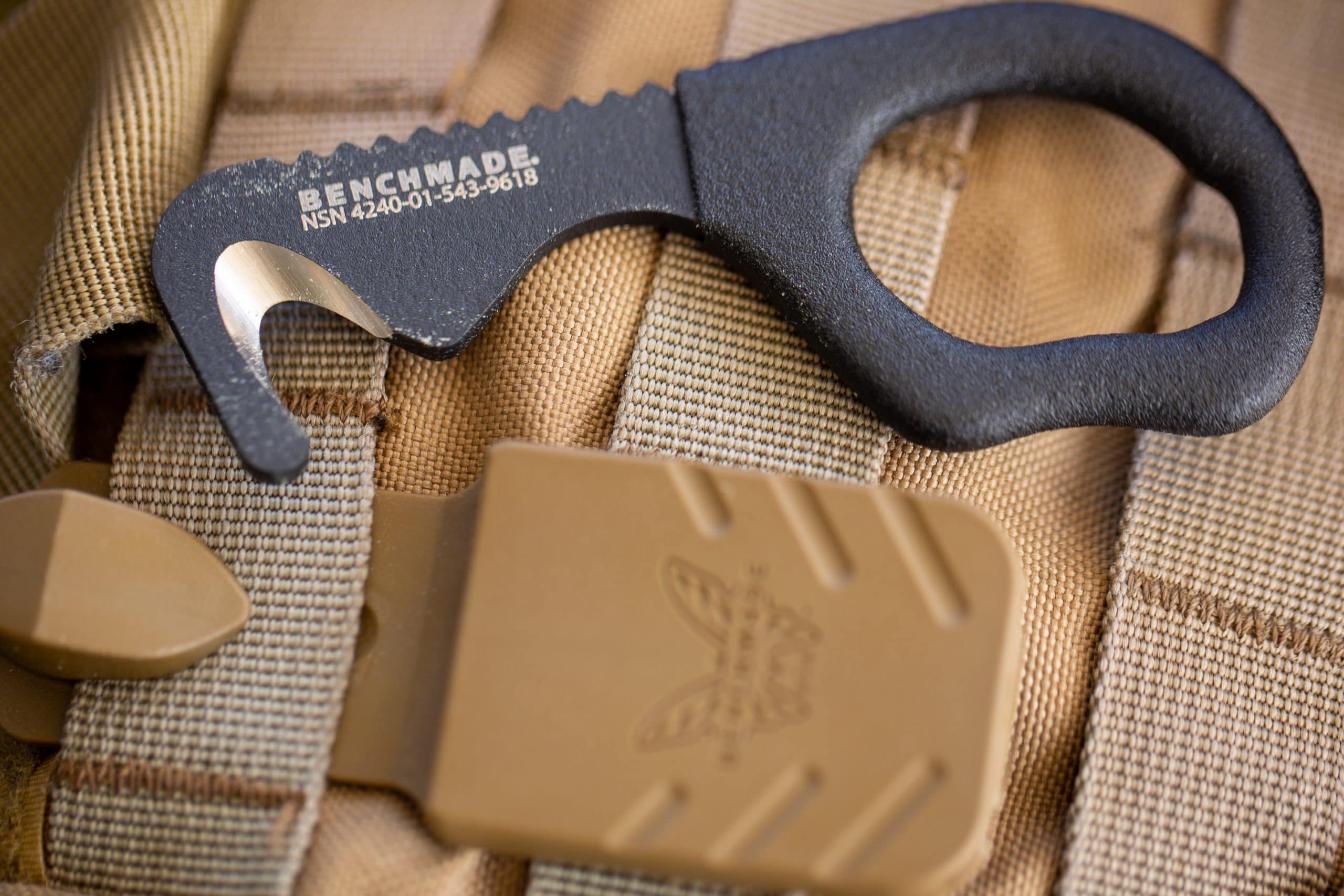 As an aside – I also got this we little Benchmade – this is the 7 hook – which is the 'bubba' version of their bigger tool. This sits directly behind me in the driver's seat in the truck, attached to the front of the easily removable first aid kit. Simple. Nice.
Blue Force Gear Micro Trauma Kit
So – this was the first 'trauma' kit I got – via the lads at Twin Needle. Not sure who I originally saw it via – maybe Garand Thumb? Anyhow – I was looking at a way of still carrying some essentials, while not needed to put the whole first aid kit on my back.
It was this system of being able to pull out the entire kit and put it in front of you, or, throw the whole kit to someone who needed it that got me looking at this one.
I still really like this design – it's potentially the simplest and easiest to 'grab' from the back of the belt. While a few people online have expressed concerns that the pouch can slip out of the belt – I have never had this issue – however, if you don't pack it full (like the supplier recommends) – I could see it being an issue. On the flip side though – because of its compact nature – it does sit out a bit from the back – and having it push into the back while driving around a bit is what got me thinking about other options.
I would like to add the Tourniquet Hammock that Blue Force Gear also do – this would allow me to essentially attached another Tourniquet under the pouch holder. Do I really need multiple (I tend to carry another in my cargo pant pockets anyhow) tourniquets on me? No. Not really. I don't expect to be involved in any mass causality on the range anytime soon – however – I could then move the pouch on the side of my belt off – so still like the idea. Sidenote – look at that beautiful diffused lighting on those photos – front deck, mid-afternoon. 😉
PracMed IFAK System
Simon and crew at PracMed continue to make waves – and regardless of what specific IFAK system you might choose to go with – I highly recommend one of their courses to learn what to actually do with the kit you have on your hip. I was one of the 'all gear – no idea' crew – well – that isn't entirely true – I had watched a lot of videos – but – being hands-on with Simon telling you to hurry up, while the dummy was spewing blood everywhere was enlightening. Get the gear, learn how to use it.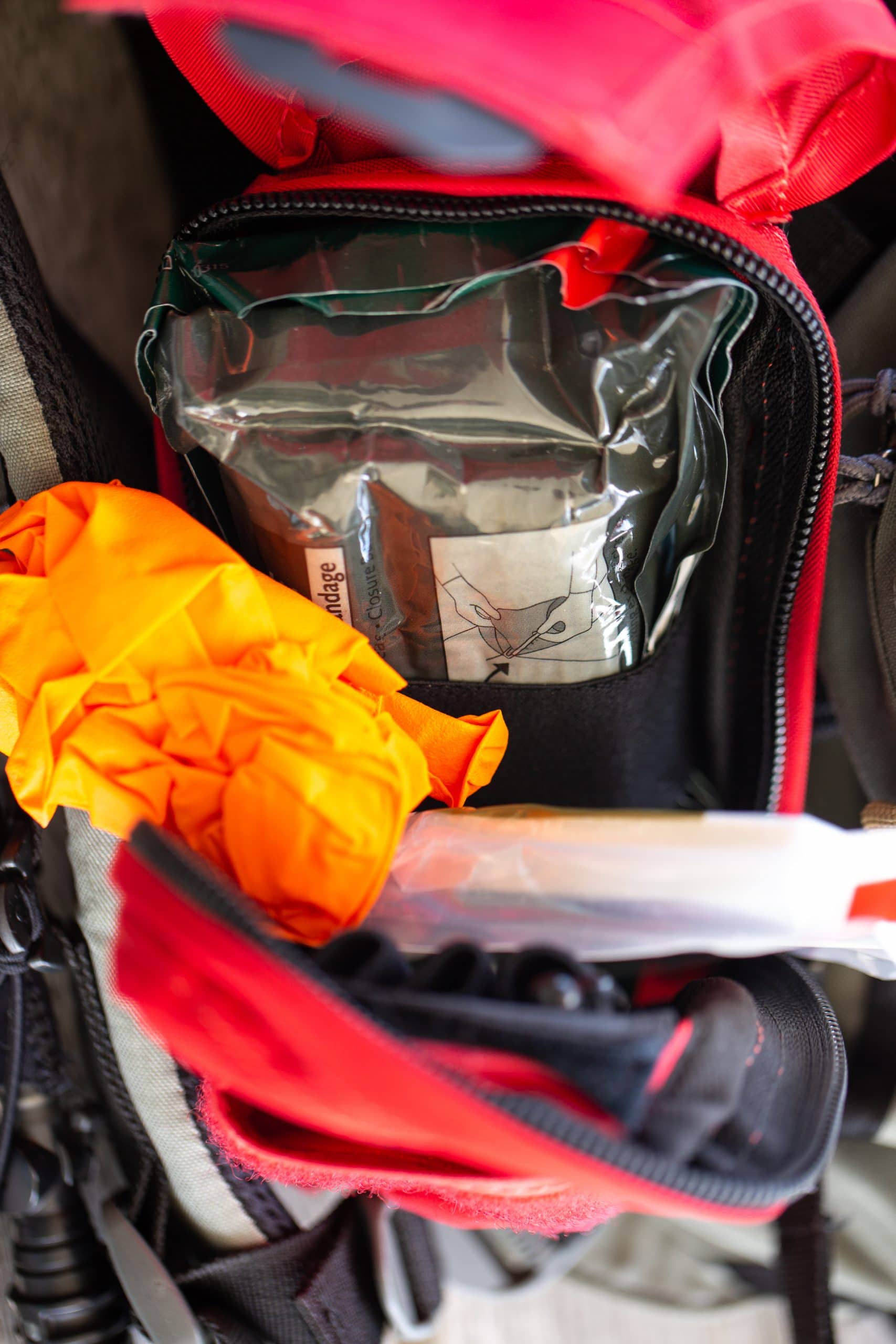 I am aware there is a version 2 that also utilised the breakaway kit from Sabre Tactical now – however – this is primarily a hip worn (though I have it on the 'hip' of my pack) kit – you pull the top pouch, and in my case, you have immediate access to a pair of gloves and the tourniquet. Then you can dig in and grab the packing gauze, compression bandages, chest seals etc – the pack itself stays on the hip.
I wanted to use the space I had on the rear of the belt (I shot prone and positional, so the front of the belt is a no-go area) – so this wasn't ideal – however – it's still a permanent figure on the daypack.

T.REX ARMS MED1 Pouch
Ah… now we are into the new ones!
I recently got send a pouch and some other goodies (thanks Mark!), I, likely like lots of you, have been following Lucas and crew for some time now. A non-military, design and practical inspired gear manufacturer and trainer? I can't see how that would appeal to me. 😉
They continue to innovate, so their med-pack had been on my wishlist to check out for some time.
I originally wasn't so sure on this pouch – as it doesn't come away like some of the other designs – however, re-reading and watching their approach – I realised it was more me looking at it the wrong way.
This isn't a dedicated first aid pouch. It is a general use pouch that contains the IFAK.
On the bottom of the pouch is a simple tourniquet holder (think about which way you are likely to want to access the tourniquet and remember to stage another on your other side) and the inside of the pack has a separate, small removable tray to hold the bandages etc. The intent is to pull the pack open with a hand, then grab the kit out to bring it around to your front. The inside of the pack has velcro – so you can attach other things in there for access. I am thinking larger than smaller things – like a torch for example – as remember you are grabbing things by feel, not sight back there. I would personally be a little nervous about attaching much on the outside with just the velcro holding it.
I like this idea as a general-purpose field pack – adding a little more space to the battle belt – which appeals, as I am about to split my belt into a couple of versions – one for the field, one for range. The range one is likely to also have a pistol holster on it.
On the slight downside with this one – it's not a molle style attachment – you will need to pull the other pouches off your belt to slide this one. However, small issue – most people will put it on once, and not have to worry about it. On the flip – the belt style attachment does attach it to the system nice and flat without any extra material/width.
The zipper system is slower than the simple 'pull' on the Blue Force – but, it is a lot slimmer in the small of the back. If time is super critical – this may not be the best choice – though – I am not likely to be in that position.
Sabre Tactical Med Pouch with QD Holder
And finally, a Kiwi Option!
I met Carl from Sabre Tactical at a recent shoot – and chased him up to order the IFAK and Dump Pouch. I already knew of him and the company via PracMeds pouches – and spotted he also has his own take on an IFAK.
His version is similar in size to the TREX option, but, it comes as a pull away pouch that is attached to the belt via a quick-release retention cover.
So – this is a case of pull the tab and pull away the entire kit – which, in this design, also includes a slot for trauma shears – something the others don't have.
This design has one surface of velcro on the inside, where a holder sits to keep the bandages in place, on the outside is a mesh pocket.
This system is attached either via MOLLE, or it has belt slots as well. So it makes it versatile, however, it also makes it a bit thicker overall compared to the TREX option.
It really is a bit of a hybrid between the TREX, Condor and Blue Force options.
So. Which one?
Well. if you know me by now, you must surely know my standard response – is – it depends.
There are aspects I like about all of them. Depending on what I am doing and where I am going. I like the notion of including some non-medical kit in the TREX option for hunting or backcountry trips where storage is at a bit of a premium. On the flip side – being able to pull off all your first aid gear and simply hand it to someone like on the Sabre is also appealing.
I also just got a notification that the new belt is on the way while writing this, so – I will be able to run a couple and see where I end up gravitating towards. That is often the challenge with a lot of this gear – reading about it is all well and good, but until you actually get some hands on time and set up and run with things for a while – you don't get to fully appreciate the subtle differences between gear.
So. Expect an update!